We offer Duroc, York, and Landrace boars for both rotational and terminal crossbreeding systems. The most popular terminal line boar is our Compart D-100 Duroc. For generations, this boar has been selected to maximize lean gain efficiency, bottom line profit, and high meat quality characteristics.
Compart's D-100 Duroc boars have rapid and efficient growth rate. In the past 10 years using ultrasound technology, pigs with high levels of intramuscular fat (IMF) or marbling, have been identified. These genetically superior boars and gilts possess 2-3 times the industry average for IMF's. Highly marbled pork, when cooked creates a more flavorful, juicier eating experience. During these same 10 years, Compart Duroc genetics are seven days faster growing without negatively affecting backfat, resulting in outstanding lean gain efficiency.
Our York and Landrace boars offer generations of high birth weights, low preweaning mortality, increased growth rates and durability for your replacement females.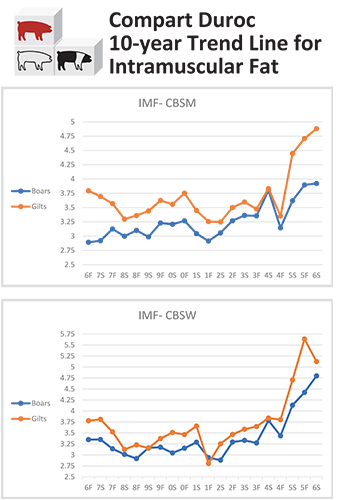 Click to view as pdf